Discover more from Monday Lunch
this is for the lovers of the 90s and early 00s. come have lunch with me on some mondays...no pressure. but we do have a good time.
Vol 59: 2023…wassup wit it
I've never ate black-eye-peas on new years day and life has always been good.
Happy New Year friend!
There are so many updates since the last time we had lunch!
My second nanny has left us and moved back with her family after some personal reasons. Remember our late lunch on Dec 5, well that was the main reason I was late because she told me right as she started her shift that her last day would be December 21st.
I immediately left and cried my eyes out in the car. Frustrated because she was so wonderful with JJ and was only with us for 6 weeks. But regardless, I am thankful for the time we had.
Then a week before her last day, I hired another nanny slated to start on Jan 11th because she was going home to Colombia for the holidays. The current nanny trained the new nanny for me and everything.
Then a few days ago I got a text from her talking about due to unforeseen circumstances she can't be JJ's nanny. 🤬
At this point, it is what it is. Me and my baby will be good.
**
I had to cancel my birthday trip to Asheville; I cried. Becoming a mom has made me extra emotional.
I finally felt like was going to get a good birthday. Last year I tested positive for Covid on my birthday while I was pregnant. The year before (2020) I was also pregnant but also knew that it wasn't viable and was scheduled to see the doctor on Christmas Eve to determine what was next which resulted in an on-the-spot surgery.
I was excited to visit Asheville, drink bubbly, dine at some delicious restaurants, and grab a few new books. But the weather had other plans.
On the days we were supposed to be there, the temperature was 20 degrees and that did not account for the wind chill. There was no way we could take our baby out in that weather.
Now we are going this weekend. Say a prayer the weather holds up for us!
**
JJ went to his first and second basketball games! On the 21st we went to Charlotte to watch Michigan vs UNC and then on the 30th we rooted for our new home team who played against Julian's hometown team, USC vs. Eastern Michigan.
Both games started at 7p which is his bedtime, but buddy hung out!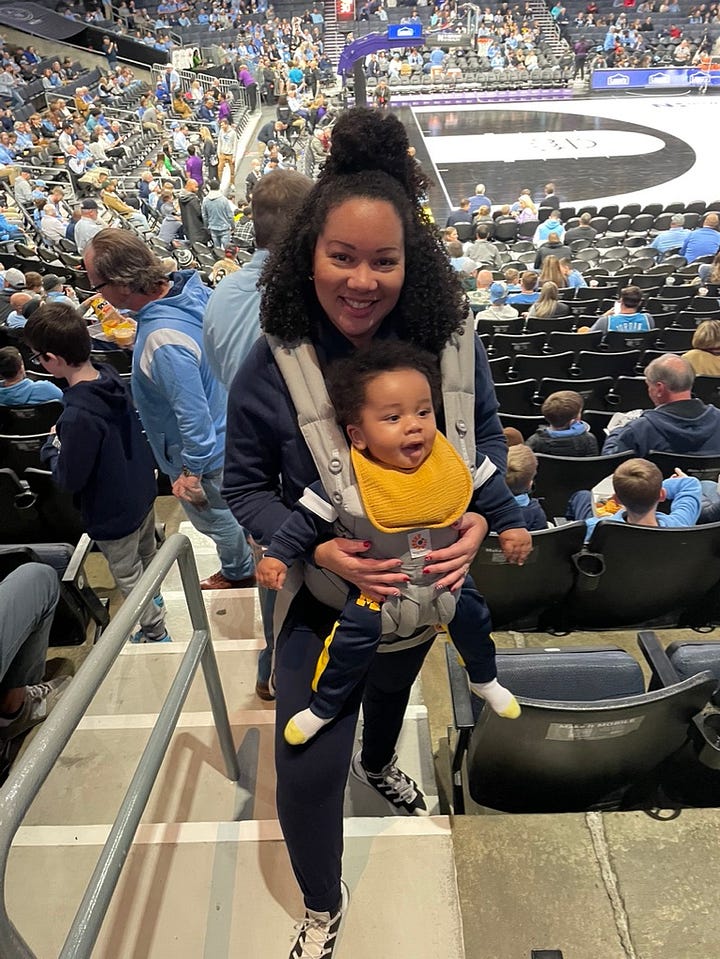 **
Christmas & NYE were quiet for us but great 1st memories for the family. I had plans to wake JJ up at 11:50p to ring in the New Year with us, but a bish didn't make it past 11:15p. But the fireworks did wake up everyone in the house after midnight. They love a firework here.
How were your holidays?
Did you buy yourself something special? Tell me all the deets. Reply, comment or send me a text if you have my number! 🙃
---
Before we get into today's music milestone topic, let's talk about what's new for '23!
Ever since I've had JJ, time is tight.
Sometimes I can spend an entire week getting lunch together for you and other times I am up at 7a and writing all the way until it's time for lunch, 11:30a, with pauses to feed, change, and entertain the baby. Thankfully I've always blocked my 1st & 3rd Monday mornings with work!
While twice a month doesn't sound like a lot, those two weeks happen fast, especially in my world. So I have decided to switch up lunch with you a tad to give me a little more flexibility. 
Lunch with me now will always happen on the 1st Monday, and then you might hear from me on the 3rd Monday or maybe the 2nd or 4th. I need those hours back occasionally, but not all the time.
The 3-5 hours I put in per lunch with you twice a month seemed simple pre-JJ, post-JJ that is a different story. 
If I am honest, I want that time back to read. 
I read 25 books this year. 10 pre-JJ, Feb 15, and 15 after. I would have read more than 25 books this year if it wasn't for our beautiful baby boy. But I found my stride after he hit about 6 months. 
If you didn't know, books are my first love and writing is my second. 
Our house isn't as quiet anymore, but when it is, sometimes I want to sit in my office and dive into a story that takes me far far away from reality. I have plans to read a few books way off the beaten path this year, and I know I am going to need the space to do that. 
Annndddd the extra time would also give me a few no-pressure moments to add to my #bookstagram! 
I know I know. Here I go again with something else on Instagram. But this is what I wanted to do in the first place, but BWL took off and took up all my time up. I had a book IG before, but I deleted it because I couldn't do both when I wish I put more focus there. But now I am back. 
If you are a book lover like me, you can find me at @thebooksinmynook on IG and visit my digital library for some reading inspo. 
If you need some great reading tips, check out this article. With these small changes I know I will be able to enjoy more reads this year.
Remember, lunch is every 1st Monday, but the next time you see me will be a surprise.
---
20 & 30! 
I can't think of a better way to begin a new year than chatting about albums we love from the 90s and early 00s that are celebrating a milestone birthday this year! 
Note: I don't list all of the R&B/Hip-Hop albums from '93 & '03, we would be at lunch all day.
1993 albums — 30 years 
At the beginning of '93, I was less than two weeks into 7.
Some of these albums were very pivotal to my coming into myself self. I was always one year younger than my classmates. In '93 most of them were 8 going on 9, while I was 7 going on 8. Catholic school is the blame for that. You can start at a much earlier age than public school. 
Sit back and vibe while I share a few memories tied to these albums or gush about my favorite songs. Remember to check out the hyperlinks.
**
Jodeci — Diary of a Mad Band 
I don't remember when I first heard Feenin', but when I did, it was a wrap. This song was on several of my homemade mixtapes and later CDs. Listening now well into my 30s it just reminds me of a classic 90s Black movie. 
Janet Jackson — Janet  
I was today's year old when I looked at the other 20+ tracks on this album.
I had no idea she had a song called Throb. I always gravitate towards, Anytime Anyplace, That's the Way Love Goes, If, and Again. Some of those other songs, like Whoops Now, I have never listened to. And still haven't. 
Tevin Campbell — I'm Ready 
I had this album on tape. And I am pretty sure it was my mom's tape that I stole.
I have a vivid memory of the cassette jacket in its clear case sitting on my dresser in front of my boombox on top of my dresser which was all black with gold trim and a big circle mirror attached to it. I loved that dresser. 
The moment I hit play on this album an instant classic that fills your ears. While Tevin didn't do too much in his career, he will always be remembered for Track 1 on this album. My favorite song on this album is 13, Shhhh…. 
Toni Braxton — Toni Braxton 
Half of this album was hits. I remember my mom singing the majority of these songs all the time. She loved her some Toni. And this is one of my favorite album covers of all time.
Wu-Tang — Enter the Wu-Tang (36 chambers) 
I wasn't a Wu fan when this dropped.
This album is a little too much for a 7-year-old. But I remember in high school, sophomore year, 00-01, I had this bright ass orange t-shirt with a navy Wu symbol on it. A bish picked that up from Ross for like $5.99.
C.R.E.A.M. became my favorite Wu song when I discovered the group. 
Snoop Doggy Dogg — Doggystyle 
So this album is NOT available to stream on Tidal or Apple Music.
But if you have Spotify, you might be in luck. It has something to do with Snoop buying the label and trying to make some NFTs. Hell if I don't know. But there are some major classics on this album like the fan favorite Gin and Juice and Murder was the Case. But my personal fav, Lodi Dodi. 
FYI, if you google Doggystyle, you will get way more than ways to stream Snoop's debut album, lol. 
Mariah Carey — Music Box 
This is probably the Mariah Carey album I forget about the most from the 90s minus that terrible Rainbow album. There are literally only 2 hits. 
Xscape — Hummin' Comin' At 'Cha
I didn't get on Xscape until I heard "My Little Secret" which is one of their biggest singles and on their third and final album together.
Once I heard this, I hit the rewind button and found their first two albums and my all-time favorite Xscape song became Tonight. And when they sing this acapella, my goodness. Let me go back and watch that performance on verzuz. 
Listening to this album now transports me to a time in Atlanta that I never got to experience, but it makes me feel like I am right in it. 
---
2003 albums — 20 years 
2003 was a great year. I graduated high school and also entered college. It wasn't until December that I turned 18. But these albums right here, some of them carry several secrets of my youth. 
Outkast — Speakerboxxx/The Love Below 
For me, this is when Outkast, mainly Andre 3000, turned a little weird for me. This was still a great album, but I really enjoy the first four albums from this duo. However, this album gave us Prototype, and I will always and forever be grateful for that. 
This video also was a little weird, I don't think it matches the song.
Jay-Z — The Black Album 
You remember this was supposed to be his eighth and final album?! Hov was supposed to retire after this, at the age of 33!
He also opened the 40/40 club this year. This album has only one skip for me, track 11. Other than that I pressed play on this one and let it ride. 
50 Cent — Get Rich or Die Tryin'
After making a mockery of Ja Rule, 50 came with this album that solidified his name and place in the game. He did not come to play at all with this one. I'll argue with anyone that doesn't agree that 21 Questions isn't the best song on this album. 
Ludacris — Chicken-n-Beer 
I arrived in Atlanta in 2008 and P-Poppin' was still in rotation at Strokers. But the classic track on this album is Splash Waterfalls. Both of these tracks had videos airing late-night on BET Uncut that I would stay awake until the wee hours to watch my senior year of high school. 
Both links are the uncensored versions that played on uncut. You're welcome.
Lil' Kim — La Bella Mafia 
After this album, Kimberly really started fucking with her face. You could tell she was doing a little something during this time, but soon after, whenever we saw Kim, she looked a little different.
The original title for the album was Hollyhood, which was supposed to be the name of her clothing line. I'm surprised she never had one. The girls would for sure have bought tiny little pieces from her. 
This is not one of my favorite Kim albums. 
Ja Rule — Blood in My Eye
He should have kept this one. 
Juelz Santana — From Me to U
Everyone was waiting for this album to drop to see if Dipset could do it again. Cam'Ron's '02 Come Home with Me had such a buzz.
Juelz didn't catch my attention with his album. IMO, he is more of a featured artist on a song versus releasing an entire album of just him. He only had two albums but a long ass career on Love & Hip Hop, lol. 
Alicia Keys — The Diary of Alicia Keys 
My favorite album by her. I remember listening to Diary over and over and over again while driving around in my Ford Escort ZX2. Like I would listen for a minute or two and then restart the song all over again because it just hits like that. 
I really wish she would have made a music video for this.
I can see it now…her laying in bed in an all-cream bedroom with a king bed that has has a sheer canopy and drapes over it, a very whimsical look. Her brown leather diary sitting next to her. And the video floats back and forth with clips of her writing in her diary and those words coming to life on the screen and then clips of her walking with her love interest. Damn, I need to be a video producer, lol.
We really have Tony! Toni! Tone! to thank for this one.
Beyoncé — Dangerously in Love 
This bish is going on tour this year. Her first solo album turns 20! There is no way she doesn't tour. But this is easily my favorite Bee album. My fav song by her is Me, Myself and I. 
And Speechless doesn't get as much love as it should. "Where you been baaabbbbbaayyyyy." 
Ashanti — Chapter II 
This album had high expectations because her first album was and still is her greatest work. And this one did not hold its own weight. It was a good try.
It gave us Rain on Me and Awww Baby, but that is about it. Then it just kept going downhill for her.
Fabulous — Street Dreamz 
Track 2, Damn, was the song played the moment you clicked on my Blackplanet page. I remember I had a background (then called wallpaper) that was automated and moved to the beat of this song. I don't know why I liked this song so much, but it was my theme song.
I even had it as a ringtone on my Nokia 3310 back when you had to physically make the ringtones. That's another lunch for another day.  
Joe Budden — Joe Budden 
I never listened to this full album, and still haven't. But his single, Pump it Up was the theme song for the summer between high school and college. I won a dance contest to this song at an all-age club near ASU called Club Level. 
This was the era when all the boys wanted to be dancers like B2K. 
Chingy — Jackpot 
Nelly paved the way for this guy. Every girl was in love with the St. Louis accent because of him. No one sounded like him until Chingy came around. He had a good moment in the 00s, but it seemed like it wasn't enough room for him and Nelly. 
The summer before college started I got on stage at Club Freedom in Tempe with Chingy while he performed Holidae Inn.
I was a hop-on-stage type of girl in my early days. 
T.I. — Trap Muzik 
2003 in Arizona = "what is a T.I. for 1000 Alex."
Arizona was in such a bubble musically, mainly getting music from the west coast with dashes of east and midwest. The south seemed to hop over AZ for quite some time. You would hear T.I., but you wouldn't really pay attention.
When I visited my college boyfriend in NC in 2004, I got put on to an entirely different genre of music, including this album.
G-Unit — Beg for Mercy 
Wanna Get To Know You is a '03 classic. There can't be an early 00s music countdown without this rap ballad. But I hated when dudes started wearing those G-Unit tank tops soon after this video dropped. 
Da-Band — Too Hot for TV 
It's been 20 years since Diddy's first MTB failure debuted their album. That's all. 
---
I hope you press play on one of these albums this year and give them the flowers, or laugh, that they deserve.
Have a beautiful start to the new year. See you again soon friend! 
Xo, Jemia